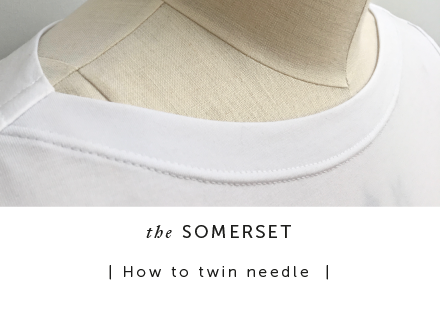 HEMMING JERSEY | TWIN NEEDLE
The Somerset T-shirt has a flattering Bateau neckline, and on a minimalist style garment such as this, it's important to understand that any stitching will a very visible detail. One of the ways to make your clothes look less home-made and more handmade is by paying attention to the finishing of your garments. And for jersey and knit fabrics, a twin-needled hem gives a very professional look.  Most factory-finished 'Ready To Wear' t-shirts will have been hemmed with an industrial coverstitch machine, which creates that unmistakeable double row of topstitching that has an inbuilt stretch to it. You can buy domestic coverstitch machines and if you've got one, happy stitching! But, if you have got one, I'm going to assume you've stopped reading this because it will all be a bit irrelevant!
Now, I don't own a coverstitch machine and if you don't either, don't worry, as it can be easily replicated on an ordinary domestic sewing machine. You just need to use either a ballpoint twin or stretch twin needle for your machine. They come in different widths, which is the size of the gap between the needles and this is how far apart your 2 rows of topstitching will be. I use a 4mm needle, just make sure the one you choose will fit inside your presser foot.
THREADING YOUR MACHINE |
You will need to refer to your sewing machine instruction manual to get the exact information for your machine. Use your usual thread in the bobbin and then use 2 reels of thread for the top threading of your machine. Thread your machine as usual with the first reel of thread. Your machine may have a second spool to attach to hold the second reel. Not all machines do have a second spool holder and if like my machine yours doesn't you can to use a separate spool stand. Thread the second reel of thread as the first, but when you get to the last thread guide above the needle leave it free to help prevent tangling (but again defer to your manual) and thread the eye of the other needle.
PRESS |
Press the hem or facing allowance 2.5cm to the wrong side of the garment (the actual amount may vary depending on your pattern).
WENDY'S TOP TIP! | Machine baste the facing
I can't take credit for this tip! Wendy, one of my lovely testers, passed on this to me as she always does this before twin needling, stitching a facing or hem from the right side of a garment. It's much quicker and gives an accurate guideline to follow. It's also quicker than tacking by hand.
Use a contrast colour on your bobbin, it will give you and an easy-to-see and an easy-to-remove colourful basting stitch on the right side.
Set your stitch to the longest length.
With the wrong side of the garment up, stitch a row 2cm from the folded edge. (Adjust the measurement for your particular need!)
This will give you a stitch line to act as a guide for your twin needle row.
After twin needling, you can remove the basting stitches.
TWIN NEEDLE |
You want both needles to catch the hem allowance. I have a 2.5cm allowance but I line up the folded edge with the 2cm mark on my machine throat plate – 2cm will actually be the midpoint between the 2 rows of stitching, so I can make sure that I catch the allowance easily (that should also allow enough allowance if you are using a twin needle bigger than 4mm). I'll trim any excess allowance away later if it needs it, but usually, it is quite a minimal amount so I don't worry too much. The twin needle creates a zig-zag on the back so there is no need to pre-neaten your hems, but jersey doesn't really fray anyway.
Use a stretch or ballpoint twin needle to create a faux coverstitch.
Stitch from the right side of the garment.
Test the tension and stitch length on a folded piece of fabric so you are stitching through 2 layers.
Check there is enough elasticity in the seam so the stitches don't crack and snap when pulled.
Remember to make a note of your stitch settings so you can switch between settings on your machine with ease during the construction phase.
Use a good quality thread to help prevent it snapping.
Leave long ends and don't backstitch, just stitch the ends in by hand later.
Increase your stitch length for neater looking stitches.
Don't stretch as you sew.
A good press with steam often improves the look of the twin needling.
I found a higher tension and slightly longer stitch length worked for my machine.
On the wrong side, trim away any excess hem allowance after you've finished.
OPTIONAL | A walking foot (great if you've got one, but they can be expensive if you haven't) will help feed both layers of fabric through your machine evenly.
Alternatively, you could use a zig-zag stitch set to a medium width/length.
OOPS! WHAT WENT WRONG?!
First of all, did you give it a good press? Never underestimate how much pressing your seams and hems will improve the look of your finished garment. And do remember that pressing is just that, lift your iron and use it in an up and down motion, not a dragging side to side motion. And be gentle, you don't want to stretch anything.
TIME TO TROUBLESHOOT THOSE STITCHES |
Sometimes, no matter how much fiddling around with pressing, tension and stitch length settings, you may find using a twin needle creates a ridge or 'tunnel' effect. Before you get upset by it, go off and have a coffee or something, come back and look at it with fresh eyes. Would it have bothered you if you bought it from a shop or are you chasing unobtainable perfection? Because you know what, that picture above, it's not that bad! But if it is bothering you…
Stabilising the area may help. Try these ideas;
try using spray starch to stabilise the area
place a tear-away stabilizer underneath before sewing and gently remove after.
You could try using wash away wonder tape on the hems. This is a double-sided tape that washes away. When I tested it I found due to the curved shape of the neckline and the tape is straight and not cut on the bias, it caused more problems than it solved, but you may find it useful for hems. And as all fabrics respond differently, it might be worth a little test sample of the neck area to see if it works for you.
Stabilise with strips of tricot interfacing.
Don't forget, it's not worth getting hot and bothered over! You can always use a different stitch, just select a zig-zag or other decorative stretch stitch to finish the hems and neckline.
STABILISE WITH INTERFACING|
To improve the look of tunnelling try applying a strip of fusible interfacing to the hem allowance before stitching. Use a tricot (knitted) interfacing, this is a stretch lightweight polyester iron-on interfacing and is available in black or white.
Cut the interfacing into 2.5cm (1") wide straight strips (or whatever the width of your hem allowance is) with the most stretch running in direction of their longest length, so it will stretch with your knit fabric and finished garment. As we are using knitted interfacing you will be able to curve the strips into shape as you press in place on your t-shirt. And then test your stitches again!
Other Somerset T-shirt tutorials | Sewing with Knits