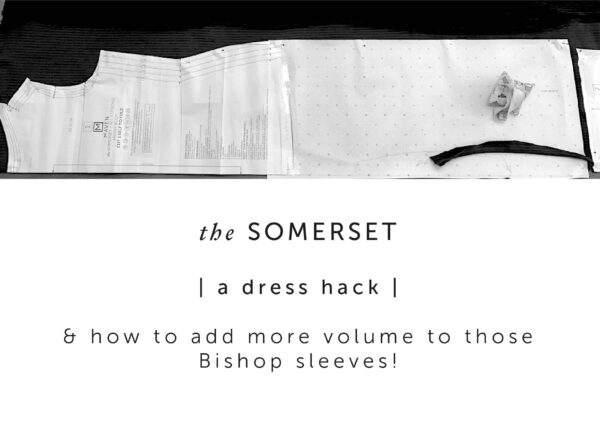 PAID POST | This article was originally written by Susan Young as part of the Lamazi blogger team and the fabric was given to Sue by Lamazi fabrics in return for a review for them. After seeing the article I approached Sue and asked if I could share it here and she kindly agreed! I have paid Sue for her time, skills and effort.
As you all know I do enjoy a good pattern hack!
And with a very different looking Christmas around the corner this year I was delighted when this beauty by Susan Young popped up on Instagram recently.
Sue has made a glorious dress hack of The Somerset t-shirt pattern, complete with extra volume on those bishop sleeves. Sue made her dress in this stretch jersey cord velvet from Lamazi fabrics , which is lovely and soft, and perfect for a spot of smart-looking lounging, but will still be relevant to your wardrobe for lots of post-Christmas wear.
"Whilst I love a complex make to really get my teeth into I felt this wasn't a garment which warranted lots of time. Making a special Christmas once-worn garment wasn't appropriate any longer so I wanted something quite simple but adaptable and for that reason I've picked the Somerset T-shirt by Maven Patterns. "

Sue Young
"I have to say that I'm really happy with this dress because it ticks all the boxes I wanted it to. It's comfortable but it looks Christmassy, it looks great with opaque tights, heels and jewellery, but also with boots, a chunky belt, a roll neck top underneath for extra warmth or a cosy scarf…and did I mention it's comfortable! #secretpyjamas It also has the advantage of rolling up and going in the corner of a bag or suitcase and coming back out again not needing a press. Bonus!! " – Sue
"I've dressed it down with an ancient knitted gilet plus a wide belt, long boots and my much loved Alexander McQueen scarf " – Sue
And it's always good to consider the future wear of any of our makes #notjustforchristmas!
A quick little re-style and Sue is ready to go for the New Year and beyond.
You can find all the details of exactly how Sue created her Somerset dress HERE.
It's a very comprehensive post – Sue covers
how to add more volume to the bishop sleeve

how she adjusted the t-shirt pattern to a dress

how she fitted the dress on herself

cutting and sewing tips for the stretch corded fabric
A huge thank you to Sue for sharing her pattern hack with us, & for letting me share here with you, I hope it inspires you with your makes!