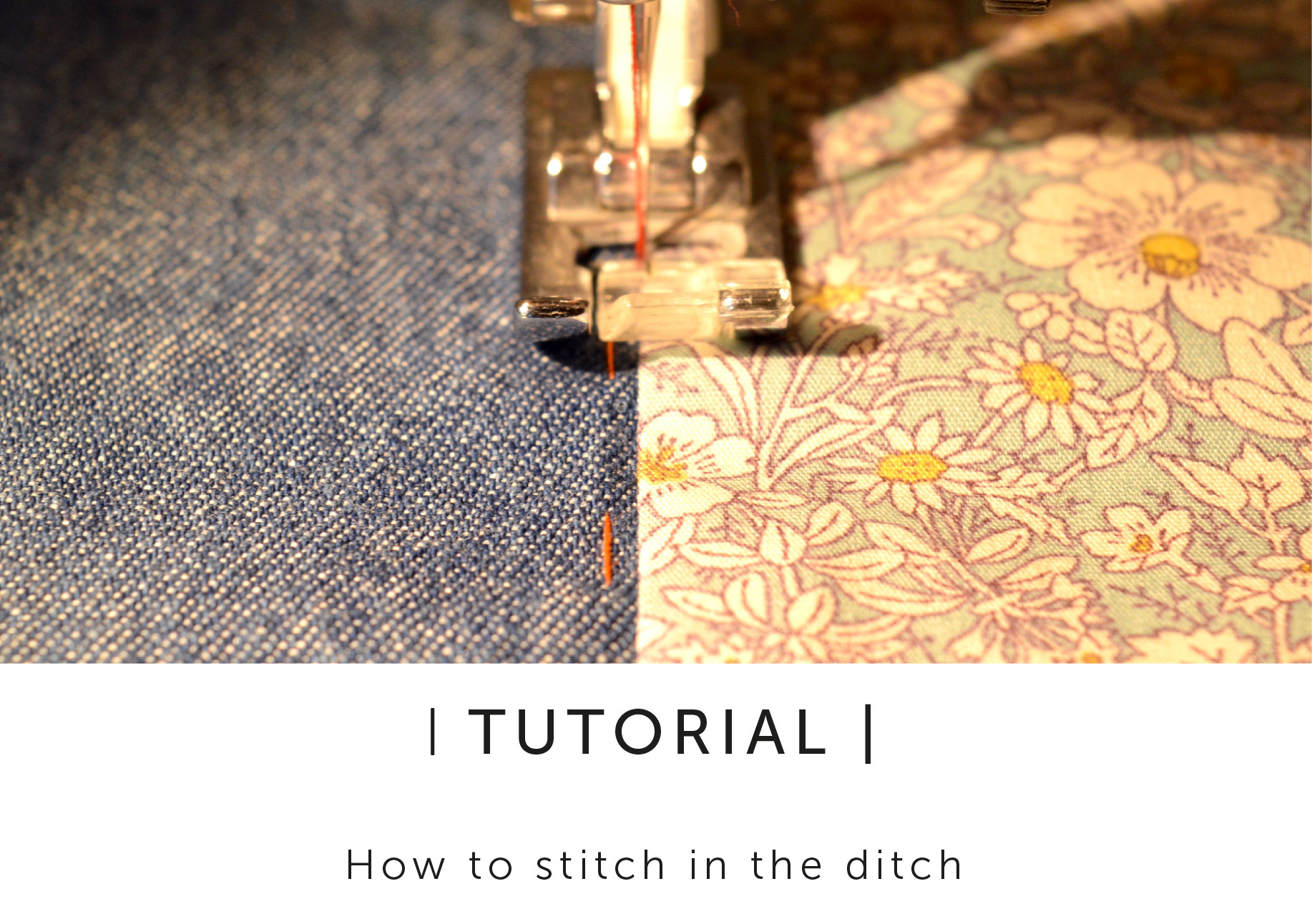 The French Dart Shift pattern has a lovely roll collar that needs to be finished at the neckline so it is neat and secure to the inside of the garment. I could have finished the neckline with a facing, but it would have annoyed me flapping about, so instead it's held in place by a row of machine stitching called 'Stitch in the Ditch'.
I've always called this technique 'Sink Stitching', but in an incredibly unscientific poll on Instagram consisting of at least 4 comments, 'Stitch in the Ditch' came out top as the preferred name – so I'll try to remember to stick with that for this 'How to Stitch in the Ditch' Tutorial.
I've touched on the 'Stitch in the Ditch' technique before in the binding tutorial. It's a very handy little process that can be used to stitch down waistbands and facings, as well as bindings, and often used in quilting too. It's perfect when you don't want any topstitching to show from the front of your garment. I've based this tutorial as if you are stitching the collar on the French Dart Shift so you have a folded edge to cover your seam with, but you could just stitch in the ditch at side seams to hold down a waist facing, or in a shoulder seam to hold a neck facing, or just overlock the bottom of a waistband and stitch in the ditch through the waist seam to secure in place. 
DENIM = garment, PRINT = collar ( *could be binding, waistband, facing…you get the idea…)
1. WITH THE WRONG SIDE OF GARMENT FACING YOU:
Press all the seam allowances AWAY from garment. Cover the machine stitching by about 2mm with edge of collar (*waistband, binding, facing…) and tack to hold in place.
2. Now you get to stitch in the ditch…
With RIGHT SIDE of garment facing you, line up your machine needle with the groove (the ditch) of the seam and stitch right IN that groove. That's it, easy peasy! It's all in the prep, as long as you stitch IN the groove and to the right of your tacking thread the back will be caught and your stitches will be virtually invisible as they will 'settle' into the groove of the seam.
3. Stating the obvious here: I've stitched in red, but stitch in the same colour as your main fabric even if you are using a contrasting topstitching colour so those stitches do actually sink in to the groove and disappear.
Also it doesn't look SO great if your needle jumps out of the groove! I did that on purpose, just to show you – honestly, the sacrifices I make 😉