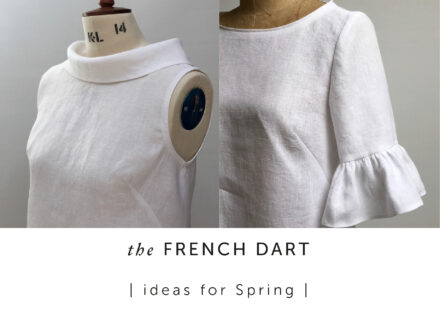 Hi, it's been a little while since I've popped up over here!
We're back in the studio after having just had the most marvellous time at The stitch festival Show in islington and Sewing for Pleasure at the NEC in Birmingham. We met lots of lovely makers, thank you all for stopping by! Everyone was delighted to have a little rummage through our sample rails and to see our patterns made up in different fabrics and examples of all of our pattern hacks. And lots of you were surprised at just how versatile The French Dart pattern is!
So, as Spring is trying it's very hardest to make an appearance here today, I thought I'd share a few of our French Dart ideas so you can refresh your wardrobe with a tried and tested favourite pattern.
Top Row
Grey linen (from Ikea) – straight out the packet, version A with the short sleeve.
White linen – version B with the cap sleeve and bound armhole, cut to hip length to make a top.
Navy linen – version C, the bishop sleeve with no amendments.
Middle Row – the French Dart really does make to most excellent top. Nothing fancy , I just measure up from the bottom of the pattern and chop off!
The button back hack – our button back hack would work as a dress too.
Make your French Dart sleeveless – I made no adjustment to the armhole, just finished with a binding and left out the back darts for a slightly boxier shape.
The Frill sleeve hack – and we left the collar off and finished with a binding.
Bottom Row – for those chilly spring days!
And, of course, we couldn't forget about this beautiful version by Jen Hogg! See the tutorial here.
You can see all of our French Dart tutorials here, including a tutorial to add a lining, an FBA tutorial, a pocket tutorial,  and how to make a 3/4 length sleeve (a linen top version with 3/4 sleeve is my go-to outfit!). For more inspiration, pop over to our Instagram where we share all of our lovely Makers and their makes!