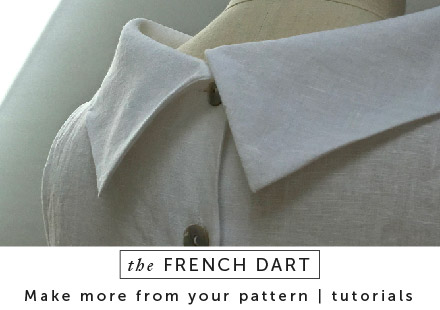 As we come to the end of our French Dart week I wanted to share a few more ideas to help you make the most of your pattern.
One of the most pleasing things to discover about The French Dart pattern was just how versatile it actually is as a pattern. I spoke early in the week about how perfectly The French dart pattern has worked as a jumper in cosier fabrics. But it also works beautifully in a lighter weight cloth for those warmer days.
Ah…warmer days…how I day dream of thee…
THE BUTTON BACK HACK |
I deliberately included the 3 sleeve options to give lots of choice for styling your FDS, but did you know it works so well as a sleeveless pattern too. These pictures are of our button back hack, but I did nothing to the armhole except bind it to finish. I was, of course, careful not to stretch it and I would suggest you do a quick toile to make sure you are happy with the armhole shape – is it high enough, or too high, is it gaping, are you happy with the shoulder width?
It does make a very elegant summer top in this lightweight linen.
THE FRILL SLEEVE HACK | 
Another way to use your pattern differently, would be to leave the collar off and bind to finish. There are bonus instructions in the pattern to show you how. This is a great option if you are short of fabric!
The Frill Sleeve hack gives you yet another sleeve option.
THE LINING TUTORIAL |
The French Dart has been made in so many different fabrics now, but for those special fabrics you may want add a lining. I certainly did for this gorgeous barkcloth*. Use our free lining tutorial to make yourself a lining pattern.
*The barckcloth is called 'wavelength' part of the In Theory collection by Cloud 9 fabrics, but sadly has been out of print for some time.
Another very useful tutorial is The 3/4 sleeve tutorial, that is certainly my most worn sleeve length! You can find all the French Dart Shift tutorials HERE. I'm sure to add a few more in the future so check back every so often!
This brings The French Dart Week to a close but we wanted to say a big thank you for taking part,
sharing your makes and for your support of our tiny pattern company.
Happy Sewing to you, my friends!
| #MAVENMAKERS |
Have you made a cosy French Dart, either a top or a dress?
We would love to see it! Old or new, share (or re-share!) them with us on Instagram Remember to tag us @MavenPatterns #FrenchDartMaven